TARDIS

TARDIS od the 1st Doctor TARDIS of 10th TARDIS of 11th TARDIS of 11th
season 5 - S07E05 S07E06 - .....
TARDIS - Time and Relative Dimension in Space - is time machine of Doctor. Outside it is police phone box and the interior of it is much larger as exterior. TARDIS changes look with every new Doctor... /
TARDIS - Časová a relatívna dimenzia v priestore - je stroj času Doktora. Zvonka je to policajná telefónna búdka a interiér je oveľa väčší ako exteriér. TARDIS mení svoj vzhľad s každým novým Doktorom....





TARDIS of the 2nd TARDIS od the 3rd TARDIS of the 4th





TARDIS of the 5th TARDIS of the 6th TARDIS of the 7th




TARDIS of 8th TARDIS of War Doctor TARDIS of 9th





TARDIS through the years / TARDIS za tie roky
read also / čítaj tiež here / tu.
Lovely imagination of the TARDIS we can make by watching S06E04 episode of 11th Doctor (Matt Smith) "Doctors Wife". Doctor travels with Amy (Karen Gillan) and Rory (Arthur Darvill) in space and he suprisingly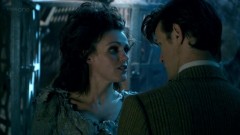 receive distress call of living Time Lord although they all know (think) all Time Lords except the Doctor are extinct. Soon they discover the call was bait to lure the Doctor on an asteroid outside the universe, where lives entity called the House (voice Michael Sheen) who consumes the energy of the TARDISes. Living matrix of the Doctors TARDIS is removed and placed into the body of the woman named Idris (Suranne Jones). The House transfers its body to TARDIS to escape from the rift. Amy and Rory are inside it too and the House started to play with them a cruel game... Doctor can talk with his TARDISes Matrix for the first time through Idris and its for both of them strange but great experience... Idris at last help the Doctor to build a substitute TARDIS of the remains of dead TARDISes on asteroid so as they can escape and save Amy and Rory trapped in Doctors TARDIS... /

Krásnu predstavu o TARDIS si možeme urobiť pri sledovaní epizódy S06E04 s 11. Doktorom "Doktorova žena".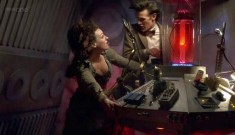 Doktor cestuje vesmírom s Amy (Karen Gillan) a Rorym (Arthur Darvill) a zrazu dostane prekvapujúce tiesňové volanie od žijúceho Pána času, hoci všetci vedia (myslia si), že okrem Doktora sú všetci Páni času mŕtvi. Čoskoro zistia, že toto volanie bolo falošné a malo len Doktora prilákať na asteroid mimo vesmíru, kde žije entita zvaná Dom (hlas - Michael Sheen), ktorá sa živí energiou z TARDIS. Dom odstráni živú matricu z Doktorovej TARDIS a vloží ju do tela ženy menom Idris (Suranne Jones). Dom sám transferuje svoje telo do TARDIS, aby mohol utiecť. V TARDIS rozohrá krutú hru s Amy a Rorym... Doktor prostredníctvom Idris môže prvý raz rozprávať s matricou TARDIS a je to pre oboch zvláštny, ale skvelý zážitok. Idris nakoniec pomôže Doktorovi postaviť náhradnú TARDIS zo zbytkov mŕtvych TARDIS, podarí sa im utiecť a zachrániť Amy a Roryho uväznených v Doktorovej TARDIS...

Doctors Wife / Doktorova žena